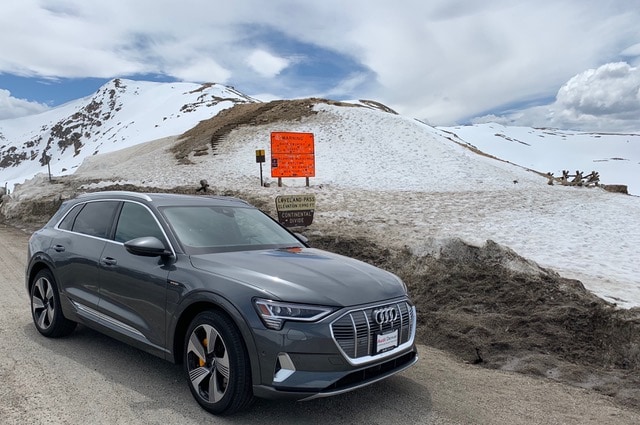 If you don't know by now, Audi has released its first ever fully-electric vehicle, the
Audi e-Tron
. And while we can give you a list of reasons for why we love this luxurious and sleek SUV — we're even giving you a chance to
test drive it
— we thought it might be better to hear why someone else loves the electric car.
Meet
Audi Denver
customer, Mark Ruzycki. We got a chance to talk with him on why he loves his e-tron, why electric is better and even how it handles on trips up to the mountains.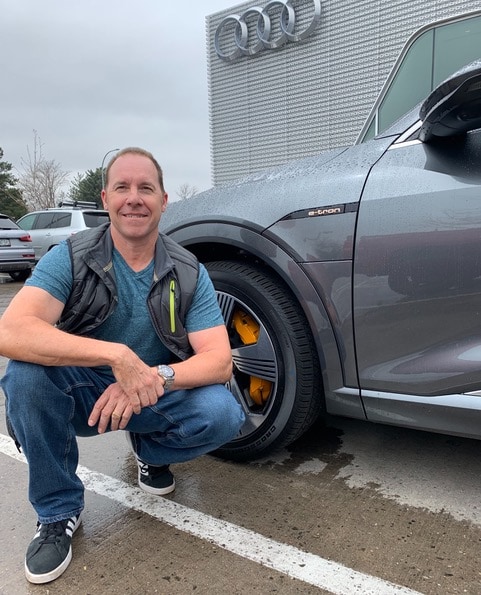 Audi Denver: Why did you decide to go electric and why the e-tron?
Mark Ruzycki: I have wanted an "all-electric" vehicle for awhile for lots of reasons. The idea of not having to buy gasoline anymore was one of them.
The performance of electric vehicles is amazing. I rode in a friend's Model S and it was so fast that it scared me! I also have a friend that had a hybrid BMW X5 and he said the same thing about its performance. My e-Tron is a kick to drive, it is so fast! It is quiet, smooth, and accelerates like nobody's business. I very rarely use the extra boost available in Sport Mode, when using it I feel like it's only a matter of time until I get a big ol' speeding ticket!
I decided on the e-Tron pretty much immediately when I first saw it online and put a deposit down right away. Then when I saw two of them live and in person at an Audi Denver event, I knew that I had made the right decision. One of the drawbacks of "all electric" vehicles is that for some reason the manufacturers feel like an EV needs to look dorky and I'm not sure why! All other electrics do not appeal to me. I wasn't about to drive around in a vehicle that looked like a big grasshopper or a spaceship. My e-Tron looks like a work of art!
AD: What are your favorite feature(s) of the e-Tron?
MR: Favorite features include,
Appearance. Sweet lines and ooooh look at that metallic paint
Performance.
Workmanship. Audi put together a super high quality build on this one.
Comfort. The interior is amazing. Lots of leather, sweet sound system, massage chair.
Wheels. I have the Edition One. One of only a small number produced!
Ride. The variable height air suspension rides so smooth on Colorado's jacked up roads.
Quiet. No engine noise and lots of sound proofing.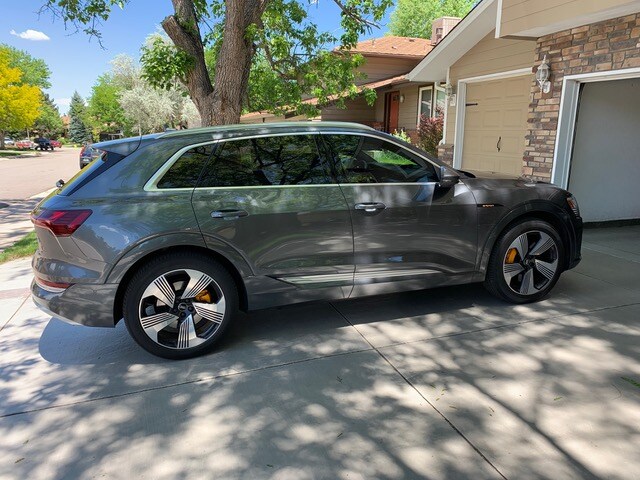 AD: Are there any misconceptions about driving an electric car you'd like to dispel?
MR: From reading comments on Twitter and elsewhere, it seems like people are fixated on the range of electric vehicles and nothing else. While range is important, it is not everything. The e-Tron doesn't have the longest range of all the available EV's but it is a normal looking SUV built by a quality car company. Here's an example of a trip that I took: I drove from my house in Denver to Breckenridge and back. I even zoomed up Loveland Pass on the way back like I was a Formula One racer! Total mileage for the trip was 180 and I still had 50 miles of juice left. The range of the e-Tron is perfect for me. 99% of my driving is around the Denver/Boulder/foothills area or up to the ski areas off of I-70. I can make all those trips easily and just plug in back in my garage when I get home if needed.
AD: Do you drive any other Audis, other than the e-Tron?
MR: My wife has a Q5. She's had Audi's for a bazillion years and they have always been great. Audi Denver has been our dealership for that same bazillion years and they are awesome.
AD: Where have you driven the e-Tron to? We heard you took it to the mountains. How'd it do on those mountain roads?
MR: I have driven to Breckenridge, Colorado Springs a few times, the foothills, and quite a bit around town. Another sweet perk of an electric vehicle is that they are places that offer free charging. I can't think of a single place that offers free gasoline when you are out and about shopping, eating, working out, etc. On mountain roads, my e-Tron is amazing. Another cool thing about an electric vehicle is that altitude doesn't affect performance at all. It's so fast going up mountain passes.
To test drive the all new Audi e-Tron, just call us at 303-795-1100 to reserve your appointment. You can also
reserve yours today
and drive the life of luxury and electricity all at once. Reservations can be tracked in
myAudi
and through email communications.